2010 Inshore Race Tracking System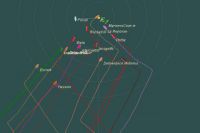 The new new inshore tracking system logs positions of all boats every two seconds. You can use the webplayer here, or download the free player application from www.tacktracker.com. You will find all races for all classes tracked. Mark positions are approximate.
You can select different races to replay by selecting them from the drop-down list. Click on the little arrow underneath the logo.